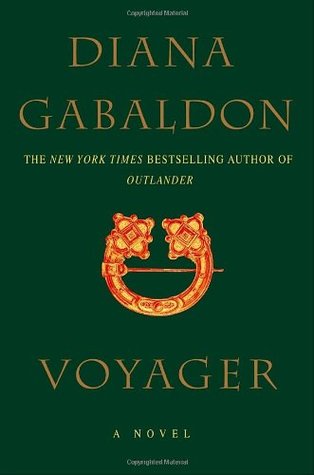 Voyager (Outlander #3)
by Diana Gabaldon
Rating:
Goodreads Link: https://www.goodreads.com/book/show/10987.Voyager
Read from January 11 to April 21, 2015
This series is not for everyone; however, for me these are immensely enjoyable reads. I must acknowledge the fact that I am listening to them on audiobook, and as I wrote in my review of Outlander (which you can read at http://lostinlibrolandia.blogspot.com...), much of my enjoyment of this series comes from the superb reading of Ms. Davina Porter, who narrates the Audible versions. However, Ms. Porter is but the voice that brings life to the words and plot of Diana Gabaldon. Therefore, while Ms. Porter enhances the series immeasurably, the bulk of credit for my enjoyment ultimately goes to the author herself. For me, my love stems from the detailed research, constantly-evolving action, complex characters, and suspenseful structure.

In Voyager, the third installment in the series, I found myself scoffing at the impossibility of events, and yet, at the same time, I was unable to stop listening for need to see what might happen next. The whole plot is completely improbable: no one travels through time and half-way around the world and yet somehow manages to run into the same acquaintances over and over again! However, the story is so intriguing, and the action is so suspenseful, and the writing is such sheer perfection, that I don't care that the plot is impossible! I adore it anyway! Of course there is this little voice that lives in the back of my brain that keeps whispering, "There is NO WAY IN HELL that this could ever happen!" But I just repeatedly beat that little voice into submission, binding it and gagging it, until I can't hear it anymore. Whenever it breaks free of its bonds and begins to denounce the probability of this book, I just insist "If this improbability is wrong, I don't want to be right!" And then, in the spirit of Black Jack Randall, himself, I beat that voice down again, tie it up, throw it into a dark prison cell, and toss away the key! I don't care that the plot is completely impossible, I love it anyway!

I find myself guessing some of these impossibilities before they happen (e.g., I TOTALLY knew the identity of Mrs. Abernathy before the book revealed it), but then I'm still gasping in shock when my ludicrous predictions are actually confirmed. I'll say, "It can't be (blank)" and yet I'll still be surprised and dumbfounded which (blank) actually happens!

And the action in this third installment was so constantly evolving and escalating, that there were times that I couldn't even keep up with it mentally. I had to keep editing the movie in my mind because Gabaldon kept wrenching up the intensity, especially the scenes at the seance and also at the end during the sea storm.

And the ending of this book is another cliffhanger...will cannibals really appear in their "brave new world"? I'll just have to keep listening to find out.

I cannot really recommend this series without reservations: as I said at the beginning, it's not for everyone. Some people will detest the violence, scoff at the unlikeliness of certain events, and/or shudder at the sheer length of the books (this installment is 870 pages, but book 4 is more than 1000 pages!). But if you love historical fiction, accurate and richly-detailed research, and a series that will last for an extended amount of time, then you should definitely read this. I have loved it so far, and have already started listening to Book 4, Drums of Autumn. It is a long haul to stick with the series through to the end, since I am getting on the bandwagon so late in the game, but since I'm listening to it, and therefore can read other books on the side, I'm very much enjoying the time I get to spend with Claire, Jamie, and others.